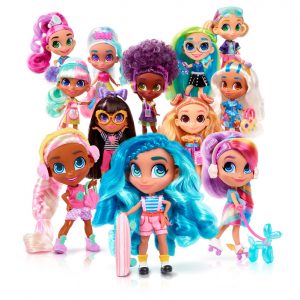 Kids have been going crazy for surprise toys over the last few years. I have to admit that I love it too. I recently come across Hairdorables and I must say, they are so adorable!
Have you heard of about it?
Hairdorables took off when Noah, a sweet and funny vlogger with a passion for hair-styling, decided to share her side-braiding tutorial on YouTube. While shooting her video, Noah fumbled over the words "hair" and "adorable"… accidentally coining the term "hairdorable"! To Noah's surprise, her video and Hairdorable went viral overnight! When Noah decided to launch her own YouTube channel and invite her friends to join her, the response was a resounding YAAAAAAAS! Now Noah and her BFFs spend all of their free time creating content and sharing their passions with the world via the Hairdorables channel on YouTube!
The exciting news is that Series 2 is now available in South Africa!
The girl squad with "Big Hair Don't Care" attitudes have ALL NEW styles, NEW Color Reveal, and do's for the new year – including buns, bangs, and braids!
There's 26 dolls to collect (including 1 rare and 1 ULTRA-rare).
Each package is a surprise! Pull, peel, and reveal 11 surprises, including NEW Color Reveal accessory, to unwrap the personality and passion of the Hairdorables girl hidden inside!
Each surprise doll comes with fashions, hairstyles and accessories that are unique to her style and talent! Each doll lives up to the "Hairdorables" name with a variety of unique luxe hairstyles in vibrant colors! ​
Some of our favourite Hairdorable characters:
Kat
Neila
Rayne
Sallee
Skylar
Willow
But that isn't all!
The Hairdorables Pets are just about the cutest fur-friends you've ever seen! Lovable, loyal, and with lots of Big Hair Don't Care style, the pets express their unique personalities just like Hairdorables!
Each pet comes with their own brush, so girls can style their Pet's hair, just like their Hairdorables Dolls! Each pet includes 2 accessories, 2 stickers, one brush, one adoption card, and one collector list.