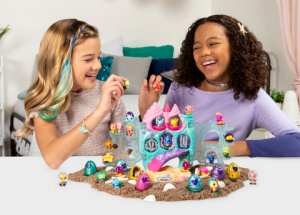 This post was sponsored by Just Fun Toys.
Hatchimals are back and this time, the range is a little different from what we are familiar with. There are a few toys from the new range that stand out for us which we think will make awesome Christmas gifts.
Here's some of our favourites:
Hatchtopia Life Plushes
Price: R200
They may look like just plush toys, but they are not! I like that there's a surprise factor to this toy however this would mean that your child would need to use your phone to access the excitement on the other side. 😉
These are fluffy plush toys that you hatch and each one comes with TWO hatchi codes that you use to unlock features and mini games with the Hatchtopia life app available on both Playstore and IOS.
Hatchimals Pixies – MomSays recommends
Price: R229
I think these are super cute to collect.
Super glam our collectible Pixie dolls hatch to life with your loving touch! Four different eggs showcase four different themes – Crystal Canyon, Polar Paradise, Wishing Star Waterfall and the Glittering Garden.
Pixies have poseable heads and their shimmering wings flutter with your soft touch. With sparkly hair and fabulous outfits inspired by their Hatchopia hangouts (the themes I have mentioned) they are the ones you want to hold hatch and love! There are EIGHT pixies to collect. Each pixie comes with her own set of 3 accessories to keep her super style in check!
Hatchimals CollEGGtibles – Mermal Magic
Mermal Magic is Season FIVE of the Hatchimals CollEGGtibles range!
Price: R559 for the 12 pack
Deep in the Hatchtopian Sea is a magical world filled with color-changing Mermals, Clownfish and more adorable friends! Hatch and discover them inside the 12-Pack Egg Carton! Lift the glittery blue lid and find 10 seashell-shaped eggs and two out-of-egg Clownfish! These exclusive Clownfish are ready to swim right out of the Egg Carton! Dip them into warm water to reveal their magical color change! What color will your Clownfish turn?
Mermal Magic Coral Castle
Price: R465
Inside the Coral Castle is a magical underwater world – full of DAZZLE!
Unfold your playset and discover the wonders hidden at the bottom of the Hatchtopian sea… with over 25 places to explore, your Hatchimals can twirl on the seashell spinner, catch the views on the sparkly perch or spin in the swiveling glitter shell!
Use the royal wing to crown a king or queen of the Coral Castle… while the royal watches over his/her subjects the other Hatchimals can take turns on the super slide!
Swim through the glitter shower, or whose them down the purple-pink wave into the Mermal pool! Fill the pool with warm water and be amazed at the Mermal Magic happening before your eyes! The set comes with TWO EXCLUSIVE characters – and don't forget to check out the pink treasure chest!
There's plenty more in the range, you can check out the collection here.