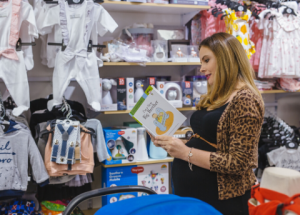 Let's talk about your hospital bag, when you should have it ready and what you should pack in it.
The hospital will give you a list when you book your room and if you choose to buy the baby passport, you will get a free nappy bag which has essentials you would need for your birth and recovery.
TIP: I highly suggest getting the bag because they also assist with registering baby with home affairs which makes your life easier and you get a 4D scan and some others which I can't really remember now since my last birth was 2 years ago.
When should you pack your hospital bag?
I would say 30 weeks however you should start planning around 28 weeks. Also, make sure your car seat is installed at this time.
Want to know what which car seats moms are talking about? Click here.
TIP: Please carry a suitcase with wheels.
I had 3 C-sections. I prepared for a natural birth for my first-born, but things didn't go as planned so I ended up been induced then having an emergency C-Section. I spent close to 5 days in hospital!
Honestly, my bag wasn't packed correctly for my first-born. My husband ended up going up and down because I carried too little and didn't have everything I needed.
TIP: It's important to remember that the unexpected can happen so if you are preparing for a natural birth, there is a slim chance you could end up having a c-section so make sure your packing prepares you for both.
Is there a big difference between packing for a C-Section and Natural birth?
It's not a huge difference but you stay longer in hospital for a C-Section (4 days max) so you need more clothes for you and baby.
The Ultimate Hospital Bag Essentials list
TIP: Go Marie Kondo on your packing! You can pack each of baby's outfits in small clear bags, so everything is together and organized for each day. Carry 1 bag for you and 1 for baby if possible.
Remember to carry:
• Documents for the hospital including Baby passport, Copy of your IDs, Marriage certificate and a black pen in a folder.
• Cell phone charger, an adapter/ power bank and/or Camera
Tip: Instax might be something to invest in if you want to start a memory box.
For MOM:
I know many moms like to wear "proper" clothing in the hospital but honestly, no one cares what you wear there. I wore PJs every day until I went home. It's important to wear what makes you comfortable and something that is not tight or inconvenient for breastfeeding.
• Nursing Bras
• Bath robe (optional)
• Clothing for you – We recommend dark comfortable pants and loose shirts or PJS.
• Slippers
• Socks
• Belly binder and/or high waisted underwear
• Going home outfit
Toiletries:
• Lip balm
• Hairband
• Hairbrush
• Makeup (not compulsory)
• Small mirror
• Toothbrush and Toothpaste
• Face wash and cream
• Body wash and cream
• Dry Shampoo
• Deodorant
• Slippers for the shower (not compulsory)
• Pocket tissues (not compulsory)
Tip: Buy travel size items for you so it takes less space in your bag.
Essentials:
• Nipple cream
• Breast pads – I never ended up using breast pads in hospital but I did always carry a few.
• Disposable panties (It helps if you bleed heavy but not necessary).
• Linen Savers
• Maternity pads
• Fiber rich snacks to avoid constipation and help with your milk supply.
FOR BABY:
I found onesies work the easiest in hospital. You are still figuring out how to change a tiny person and the last thing you need is a complicated outfit which will make your child scream blue murder especially after the first bath.
TIP: Always carry double the amount for baby because they are bound to throw up and mess. I carried 6 outfits for my kids.
• Hats
• Vests (Long sleeve)
• Outfits/Going home outfit
• Mittens (not compulsory if you are swaddling)
Your little one will most probably be born with long nails, sometimes they touch their face and can easily scratch themselves.
• Receivers and Blankets
• Sleeping bag (not compulsory but we recommend it)
• Diapers and wipes
• Face towels for feeding.
• Bathing towels.
Toiletries:
• Shampoo
• Baby wash
• Diaper cream
• Lotion
• Cotton wool and cotton buds.
• Surgical spirits
• Baby oil (not compulsory)
• Telament drops (not compulsory)
Comfort items
• Pillow (if you are fussy but not compulsory).
• Towels/washcloth for you.
• Nursing pillow – this helped me a lot (not compulsory).
Miscellaneous:
• Gift for sibling
• Reusable Bags for dirty clothes
• Nappy sacks (optional)
• Money – if you want to buy something from the hospital restaurant or vending machines when your partner isn't around.
• Hair iron/Dryer (not compulsory)
• Prenatal Vitamins (not compulsory)
• Clothes for your partner if he or she is staying too.
This list was created based on moms' experiences in the tribe.
Brands we recommend you check out:
Tips from the tribe:
Urisha Govender says "Apart from the usual. A mini hair dryer so you look and feel good the next day, freshly washed and dried hair makes such a difference to how you feel."
Maxine Nicholson says "Carry lots of baby clothes, my baby was in NICU which wasn't expected, and I didn't carry enough clothes for baby or myself. So whatever u think u need carry extra. U rather have too much stuff than not enough or having to send your hubby up and down home to fetch what u need."
Tayyabah Mungalee says "Also pack baby's clothes in ziplock bags like 1 outfit vest socks receiver and nappy and label it… Like example 1st outfit, going home outfit etc… Makes it easier for the nurse or family members in case u had a c section or even just while u recovering from giving birth and they want to dress baby."
Keshnie Rose Abrahams says "I was told my baby was going to weigh more than 3 kgs. People always say not to buy newborn, but I had to send my mom and sister to get so many onesies because I only bought 0-3 months."