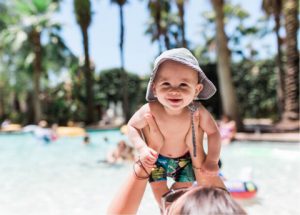 This post is sponsored by Avène Sun Care Range.
Summer is here! I know you that you are already thinking about the beach or just chilling by the poolside with a nice cold drink with the family but let's get real for a moment. While there's loads of fun in the sun, there's also the risk of damaging yours and baby's skin.
Did you know that you are exposed to UV rays almost everywhere?
According to Mayo clinic, it takes as little as 15 minutes to damage your skin in the sun.
What are the dangers of UV rays?
· Sunburn
· DNA damage
· Dark spots
· Premature aging
· Increase your risk of skin cancer
The common question that many first-time moms ask is, can I use sunblock on my newborn?
The answer is no. For the first 6 months, you should avoid using any sunblock on baby as their skin is super sensitive. Avoid exposing them too much to direct sunlight especially during peak hour-  which is between 11 am to 4 pm.
What should I do instead to protect my baby from the sun?
· Invest in light cotton clothing that fully covers arms and legs.
· A brimmed hat is a MUST!
· Use the sun shield on your stroller when out and about to protect your little one from direct sunlight.
· Consider purchasing a UV shield, which you can use on the car window that helps block direct sunlight to reach your little one's car seat.
Once your baby turns six months old, you can use a sunblock that is recommended for use on babies/kids. I would recommend trying one for sensitive skin first in order to see how your little one reacts to it.
The extreme sensitivity of their skin, as well as the different aggressions which they may be exposed to – sun, sand, chlorine, and salt – all require enhanced protection.
Test the sunscreen on your little one's wrist first to see if there may be a reaction before applying it all over the body. It is recommended that you put on sunblock at least 20 minutes before being exposed to direct sunlight.
How to protect your skin:
Always wear protective clothing (t-shirt, glasses, hat, etc)
Apply sunblock regularly.
Don't stay in the sun too long, even if you're using sun protection. Excessive sun exposure is dangerous.
In addition to the dangers posed by UV rays, sun exposure can lead to skin dehydration, which causes discomfort and sensations of tightness for adults.
This summer why not protect your skin, while contributing to saving the planet … in more ways than one.
Meet a brand that cares about your skin and our planet….
Eau Thermale Avène Sun Care Range
Based on the exclusive Sunsitive® protection combination from Pierre Fabre Research:
· Patented filter system containing only 4 sun filters for very broad-spectrum, long-lasting stable and effective UVB-UVA protection with optimal skin tolerance.
· Unique antioxidant complex (Pre-tocopheryl+ Thialidine), for complete cellular protection against oxidative stress.
· Avène Thermal Spring Water, recognized for its soothing, anti-irritating and softening properties.
Many ingredients found in sunscreens and certain sun filters are not biodegradable and can be assimilated by corals and other marine organisms, which can have a very harmful impact on marine ecosystems.
Thanks to a strict selection of ingredients which promote better formula biodegradability and are more difficult for marine organisms to digest, Eau Thermale Avène sun care products have been developed to minimize impact on the marine ecosystem. These gentle, effective, eco-friendly formulas and textures with an imperceptible finish carry a promise to protect the skin and respect the ocean.
· Minimal, highly tolerated filters
· No silicones
· No water-soluble filters
· Free of controversial filters like octocrylene, octinoxate(cinnamate), oxybenzone and homosalate.
You can help make a difference too!
R10 of every Eau Thermale Avène Sun Care product sold between November to December 2019 will be donated towards turtle conservation initiatives along the Southern African coast. Funds raised will be used for the monitoring, tagging and conservation of nesting females and their hatchlings.
Products we recommend:
Avène's new SPF 50+ Spray for Children
This is perfect for sensitive skin.
· Sunsitive® protection with new Thialidine & Pre-tocopheryl antioxidant complex
· Anti-agression texture with «SWOP» technology for easy application and long-lasting protection
· Eco-friendly formula
· Very water-resistant, fragrance-free, no white marks
· Rich in soothing Avène Thermal Spring Water
· Twist OPEN / STOP nozzle system which makes it easy for travel.
Spf50+ Body Range For Adults
New: Hydra-Protective Texture
For Lasting Hydration
Say goodbye to the unpleasant feeling of tight skin in the sun.
· Thanks to vegetable glycerin, lasting hydration is guaranteed for 6 hours*.
· Well hydrated and protected against dryness, skin remains comfortable and supple.
Spf50+ Face Range
Sunsitive® protection with Thialidine & Pre-tocopheryl antioxidant complex.
· A unique texture that will adapt to your skin's needs.
· Thanks to a new-generation silica, it absorbs both excess water (sweat) and sebum*
· Easy to apply, luscious, smooth, no greasy or sticky effect; quickly absorbed to guarantee a silky, dry-touch finish, the "Nude skin feel".
· innovation added to the SPF 50+ face formulas, promises both visual and sensory pleasure.
· no more shine, skin is like velvet
· no white marks
· an imperceptible, extremely soft finis