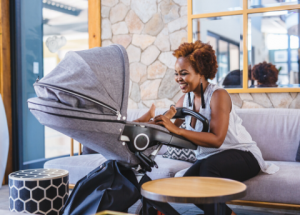 Do you love following Mommy Youtubers? The industry is still growing in South Africa but it's already exciting.
I know what you are thinking… Yes, Olerato's pictures have been plastered all over our website and social media. And that is the reason why we thought we would do a formal introduction to her here on our blog.
Meet Olerato, The South African mommy Youtuber you need to follow.
Hi besties, I am Olerato.
I have 2 gorgeous little ones – ages 1 and 5 years old so it gets a bit crazy sometimes but it's good crazy, so it is okay. I just recently got married to my Varsity sweetheart (is that even a thing?) and the 4 of us together get up to a lot of crazy adventures.
I am more of a vlogger than a blogger. My passion is more around filming videos and editing them. I share my life as a Mom, Career woman, Student, Wife, and well, just about everything else in between, in small little snippets called vlogs on Youtube – Mommy and Baby Approved.
I started my YouTube journey as a mom wanting to showcase to other moms that having children doesn't mean that 1 needs to stop living or has to put aside their dreams and aspirations. It can all be done and enjoyable at the same time.
My channel has since evolved into a community of Besties that share with me my ups and downs and have had the privilege to watch me grow as a person and watched my kids grow up. I try out different products, go on adventures, challenge myself, fail, get back up and try again and I share all those experiences with my Besties (Followers/Subscribers). It has been quite a journey and I'm hoping it has touched and inspired a few people/moms and that it will continue to do so in the future.
Products you think moms should invest in during pregnancy.
Pregnancy pillow – as the belly grows bigger, it can be quite uncomfortable to even sleep at night. A pregnancy pillow to support the belly when you lie down always works wonders.
Pregnancy vitamins – There'll be days when keeping food in your stomach is close to impossible. The pregnancy vitamins will keep you and baby going. Just make sure you take only the recommended amount daily. No more than that.
We recommend Preg Omega.
Some good Underwear and Bras – As your belly is growing to accommodate the baby, so will everything else. Some moms embrace the growth while others not so much. It helps to get good looking underwear to make yourself feel good even with the endless changes that your body goes through during pregnancy.
We recommend Mama Noo and Boodywear.
Comfortable shoes – When the nesting phase kicks in, you might find yourself wanting to shop for baby and/or on your feet majority of the time trying to make sure that all is set and ready for little one. Wearing comfortable shoes will go a long way to reduce the aches and pains that come with being on your feet for long periods of time.
Good moisturizing cream/lotion – Growing belly equals stretching skin which in some cases means cracks, dry patches, and stretchmarks. Though I don't think stretch marks can be entirely avoided for some women, it's always nice to be well moisturised during pregnancy. Be it on your growing belly or all over your body, dry, itchy skin is never comfortable for anyone. I used Johnson's vita-rich range during my pregnancy with my son and applied a lot of the Oh Lief tummy wax around my tummy. These products really helped me to get a grip on my dry cracking skin and stay moisturised at all times.
5 products you think every first-time mom should invest in for their baby?
NooNoopie Tie wrap – Little babies love to held up close and sometimes it's not always possible when you have a million and 1 other things to do around the house. The NooNoopie Tie wrap allows you the chance to hold baby as close to you as you want and still have your hands free to do other things. It's also great for skin to skin with baby and for those trips to the malls where you can't really take a stroller because you have to push the grocery trolley.
Tripp Trapp high chair – This chair is just life changing. It is by the brand Stokke and can be used literally from the day baby is born all the way until baby becomes a Parent and pass the chair on to their little ones. It grows with you. During the newborn phase, you have the option to purchase the newborn insert that can be used all the way till baby can sit up and then purchase the baby insert that can be used all the way till baby can sit safely without a harness. I love that the chair is high enough for baby to have normal dinners with us on our dinner table.
Baby Gym – Every mom (first time or not) deserves a chance to sit down and sip on their coffee while it's still hot. Having a baby gym around can give you that opportunity. We've been using the Yookidoo baby gym since my son was about a month old and to this day he loves it. He can play in the for 30 min straight while a sit close by to make sure he's okay. During this time, I am able to drink my coffee, take a shower (it is lightweight enough to carry to the bathroom), or just sit and take a breather. The baby gym can be used from birth up till a year old. It converts to fit baby's age and milestones and it's so vibrant and colourful.
Stroller/Pram – Babies are all shades of cute and adorable and you basically want to hold them all the time, unless you are out in public and holding them up is not an option. Having a good stroller/pram always comes in handy. We've been using and loving Xplory V6 stroller by the brand Stokke. It is absolutely incredible. You can adjust the height of the stroller to bring baby as close to you as possible. It also comes with different reclining levels making it easy to lay baby flat should baby fall asleep while in the stroller. You also can use the stroller as a high chair in restaurants that don't have baby chairs. This is my absolute favourite feature about the stroller. You just adjust the reclining position to make it into a sit upright position, and then lower/lift the stroller to bring it down/up to the table level and you are basically good to go. Baby gets to be nice and comfortable in the stroller, is able to reach the table to grab food, and the parents are able to see and interact with baby too. It's honestly amazing.
Swaddling Blankets – Though this might not be every baby's cup of tea, swaddling blankets can play a really big role in a Mom's life. Especially during the first few days or weeks after baby is born. Some babies tend to love being wrapped up during naptime or after feeds and swaddling blankets does that perfectly. I've recently discovered Fox Fable. They make the most adorable muslin blankets that can be used to swaddle baby up. They are very soft and big enough to keep the swaddled position in place without getting undone.
Baby Food Maker – As soon as baby is ready to start eating solid foods, and as a Parent you have decided to cook your baby's meals at home, it's always a good idea to invest in a product that'll help you get your baby's meals ready without the added stress of having to watch the food while it cooks. I've been using the Tommee Tippee Baby food steamer/blender for weeks now and I absolutely love it. It steams the food and blends it from just a few button clicks at the beginning. I love that you don't have to worry about the food burning on the stove while you got held up by something else (probably changing nappies). You basically, plug it in, make sure there's enough water in it, sets the steamer time and blender time and you are good to go.
One product you regret purchasing and why?
The Love to Dream swaddle up. I think I might have bought this product a bit too late. Baby was 3 weeks old at the time and he did not enjoy it at all. Each time I put him in it, he would be restless, cry, and just not fall asleep. It could potentially be that he just wanted to suck his finger and the swaddle up covered his hands, I truly have no idea. Generally I think it's a really good product especially when it comes to baby's startle reflex. I read and heard wonderful things about it. It is just very unfortunate that it didn't work for us and I had bought 2 of them which wasn't entirely cheap. Since I had bought them on sale, I couldn't return them either.
One product you think is overrated?
Baby baths. Unless you don't have a bath tub in your house, I truly think that baby baths are a little bit overrated now. They occupy space in the house and basically just duplicate functionality (one can use the bathtub to give baby a bath instead of buying a baby bath)
What skincare range are you currently using for your kids?
Both my kids have sensitive and dry skin so it can be a bit challenging sometimes. One is allergic to Petroleum jelly and the other can't use cream/lotions so I constantly need to keep changing their products and switching up to suite them individually for each season.
Currently, I'm using quite a few since I get different things from each. Baby Dove for nappy cream and baby wash.
Johnson's baby for hair care specifically for my 1 year old son. Shea Moisture olive oil & marula baby wash & shampoo to switch up with Baby Dove. Epimax baby cream mixed with Oh Lief baby wax as body moisturiser.
One product you wish you received at your baby shower?
Baby bottle electric steriliser. Whether you are planning on breastfeeding or bottle feeding, you will need to use bottles at some point. Be it to feed baby milk (formula or breastmilk) or water and those bottles will need to be sterilized. This can be done manually however from a convenience perspective and making life for a mom easier, an electric bottle steriliser truly would go a long way.
Which is your favourite South African online store to shop at for your kids?
I use modern day cloth nappies on my son and majority of my online shopping hours are spent browsing and buying cloth nappies. My go-to online stores are biddykins, bamboo baby, and fancypants products.
Which is your favourite physical store to shop at for your kids?
Woolworths. It's so easy and convenient. I can shop for my Preschooler and baby on a single trip. I love it.
Any tips and advice for new moms?
No two babies/children are ever the same, even ones from the same parents. So always do what is best and works for you and your baby.